Sneak peek of the second plenary session
Today I want to continue to make you curious about the plenaries of the 8th WCPEC. You should not miss the Wednesday, 28 September 2022, as we scheduled three plenary sessions in sequence for the whole morning.

The first plenary session 4CP.1, starting already at 8:30 is along the theme "PV Works Everywhere". Certainly not a surprise for you that PV is very versatile but think about it a bit: Coal, Oil and Gas is NOT everywhere, and the availability of PV allows so many applications.

The integration of PV directly in vehicles is one of the feasible options to make transport emission-free, and this is why this topic is also about Vehicle Integrated PV - VIPV. The plenary 4CP.1.1 "The Photovoltaic Potential of a Fleet of Urban Vehicles" will be given by Mr. Hesan Ziar of the Delft University of Technology, in The Netherlands. But this presentation is not about integrating PV onto cars, no, Mr. Hesan Ziar and his co-authors report a methodology to calculate the power generated by a fleet of urban ships applicable to the 2746 Dutch general cargo vessels. The results are very encouraging, estimating more than 200 GWh of energy available and, best of all, the methodology and parameterisation seems to work also with a fleet of electric cars in an urban environment!

As the title of this plenary session says, PV is everywhere. However, it is also close to wildfires in Australia, in New South Wales (NSW) which seems to be struck by real climate change consequences. The presentation 4CP.1.2, given by Ethan Ford, titled "Impact of the 2019-2020 Australian Black Summer Wildfires on Photovoltaic Energy Production" analyses the PV energy impact of the months-long haze caused by wildfires, taking the monitoring data of 160 residential areas relatively close to the wildfires. PV output was reduced both by atmospheric attenuation by aerosol particular matter and subsequent deposition on the module's surface. The analysis shows that the power loss is proportional to the particular matter (PM) concentration, on from there the authors derive an estimated loss of revenue close to 10 million AUD (6.5 Mio. €) when applied to all PV systems in the zone. Let us cross fingers for NSW, I would not exclude an update in this talk regarding the impact of the current flooding….!
Heinz Ossenbrink
Chair, International Advisory Committee
World Conference on Photovoltaic Energy Conversion

Submit your late-breaking abstract
Did you know that you can still submit your research to the WPCEC-8 even though the full conference programme is already fixed? Late-breaking abstracts are welcome until shortly before the event. And there are various oral presentation slots reserved for those late submissions.

Be part of the biggest scientific PV conference in 2022 and submit your late abstract now.



WCPEC-8 programme and tickets
WCPEC-8 offers its participants an extensive programme, including various parallel events. But the focus is not only on the scientific conference with knowledge exchange and networking opportunities. WCPEC-8 is also the place where PV research meets industry and business connections are made.

In addition, WCPEC-8 wants to emphasize the international and educational spirit of this event, by introducing the PV Academy, an academic format which will teach about the fundamentals of different PV technologies, and by offering the Online ticket, to allow participants from all around the world that cannot travel to Milan to benefit from the knowledge concentrated in one place.

Choose the best option for you! Whether you want to join the PV academy, the exhibition, join the conference dinner or the entire conference in person or virtually*. Find your perfect option here:
*Please note that speakers and chairpersons must attend the WCPEC-8 in person to be part of their session.

Exhibition: 85% already booked
If you want to present your company, products and services to the global PV industry, you need to be quick. 85% of the WCPEC-8 exhibition space has already been booked. We are happy to see that the industry is so eager to meet again in person to exchange and discuss.

If you, too, would like to exhibit, secure your spot now!



Whom to meet
If you are curious about whom you will meet at this year's event, take a look at our llist of organisations and institutions represented at the WCPEC-8. As of today, participants from over 50 countries and over 180 companies and organisations will join us in Milan to gather for world's biggest scientific PV event in 2022. See for yourself and join the global PV community.



EU PVSEC LinkedIn Group
On the occasion of the 8th World Conference on Photovoltaic Energy Conversion, the EU PVSEC would like to further support the international exchange and promote job opportunities in the field of solar PV. Therefore, EU PVSEC set up a LinkedIn Group to create a dialogue between employers from industry and research and PV experts looking for a new challenge.
Find new job opportunities in the PV sector
We encourage you to join our
LinkedIn Group
and share new opportunities with fellow PV experts and newcomers. The group also aims to inspire lively discussions and exchange on PV topics and well as to strengthen the network of the global PV community.
We're looking forward to connecting with you!


Sponsors
Gold Sponsor
BT Imaging, founded by Prof. Thorsten Trupke and Dr. Robert Bardos in 2006, is the world-leading supplier of photoluminescence (PL) imaging equipment at Sydney, Australia. The company, owning over 45 granted patents, is dedicated to developing applications of PL imaging, serving research laboratories and manufacturers of photovoltaic bricks, wafers, cells and modules around the world.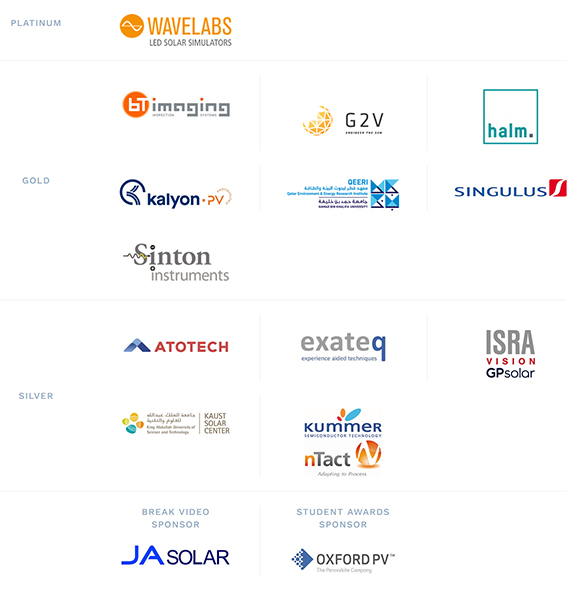 Partner News
| | |
| --- | --- |
| | PVI 48 Launched in 2008, the Photovoltaics International journal carries technical papers written by recognised industry experts, highlighting technological innovation and manufacturing excellence throughout the PV supply chain. The new edition of Photovoltaics International – Volume 48 – is now available to download. |
PV Tech Power 31

The new edition of our downstream solar journal,

PV Tech Power volume 31

, is now available to download, featuring articles surrounding the decarbonisation of solar manufacturing and deployment.

Our Market Watch section details how three of Europe's most prolific solar markets – Germany, Italy and the UK- are faring as installations look set to accelerate, while our Storage & Smart Power section explores supply chain constraints on the battery manufacturing side and the role of energy storage in grid operations.

For further information please contact:
August 2, 2022
WIP Wirtschaft und Infrastruktur GmbH & Co Planungs-KG · WIP Renewable Energies
Sylvensteinstr. 2, 81369 München, Deutschland · Registergericht München HRA 46696
Haftende Gesellschaft Wirtschaft und Infrastruktur GmbH · Registergericht München HRB 7828
© 2022
WIP Renewable Energies
|
Disclaimer
|
GDPR
|
Unsubscribe from newsletter