<![if !vml]>

<![endif]>
| | |
| --- | --- |
| <![if !vml]><![endif]> | |
| | |
| --- | --- |
| <![if !vml]><![endif]> | |
| | |
| --- | --- |
| <![if !vml]><![endif]> | |
| | |
| --- | --- |
| <![if !vml]><![endif]> | |
| | |
| --- | --- |
| <![if !vml]><![endif]> | |
| | |
| --- | --- |
| <![if !vml]><![endif]> | |
| | |
| --- | --- |
| <![if !vml]><![endif]> | |
| | |
| --- | --- |
| <![if !vml]><![endif]> | |
<![if !vml]>

<![endif]>
<![if !vml]>

<![endif]>
A monumental event after 2 years of online meetings
The 8th World Conference on Photovoltaic Energy Conversion in Milan was a great success, welcoming more than 1500 participants from 60 countries and covering over 1100 presentations, consisting of Scientific Sessions, engaging Panel Discussions, in-depth Parallel Events and market related Industry Presentations. More participants are joining daily as the content is still available online for three months. The halls of MiCo were bursting with positive energy and optimism and a growing exhibition attracted PV professionals to exchange with industry companies and research institutions alike.

We want to take the chance to thank the global PV community for joining us in Milan after two years of online events, for the crowded conference rooms, the busy exhibition, the lively discussions and plenty of networking. Thank you to all speakers, chairpersons, exhibitors, partners and attendees for your hard work, your loyalty and your support!
<![if !vml]>

<![endif]>
Highlights of the WCPEC-8
A global and full-scale PV deployment needs collaboration. This is the main take-away that was mentioned several times at this year's WCPEC-8. It can be observed that many regions are showing a great deal of ambition to expand PV production, but only through a joint effort can the global energy crisis be overcome. As PV is becoming a key pillar of energy production it also means that disturbances (such as faults) play an increasingly important role. Therefore, it is important to understand these mechanisms.

Another important outcome that was mentioned, is that PV research is doing a great job. High efficiencies are being reached, advances are made in the substitution of silver in the solar cells, reduction of costs race remains active and focus in placed on the decrease of use of hazardous materials, just to mention a few examples. But it is key to bring those findings to the right authorities, to inform the general public more and to involve material scientists, chemists and key-players from social and political science.

In addition to the scientific conference programme, a multitude of horizontal topics were presented and discussed in the Industry Summit and the Parallel Events.

Find more information in the latest WCPEC-8 press release.
<![if !vml]>

<![endif]>
Student Awards Winners
As is the case every year, the most remarkable and outstanding research work in the field of PV amongst young researchers is rewarded with the Student Award. This year, 7 students were honoured for their high-quality work and presentation at the WPCEC-8.

"Solar photovoltaics is a key driver for the transition to a sustainable energy future. The entire research community underpins this activity which begins with the next generation of scientists and innovators. We applaud the ingenuity of this year's Student Awards candidates, and we offer our congratulations to the winners."

Dr. Chris Case, Chief Technology Officer of Oxford PV, Sponsor of the WCPEC-8 Student Awards

We congratulate all winners and want to encourage young researchers all around the globe to continue the good and hard work. You are the future of the renewable energy transition and we hope to see you all at the EU PVSEC 2023 presenting your latest research findings!
<![if !vml]>

<![endif]>
Poster Award Winners
The poster sessions are an equally important part of the conference programme, and we were pleased to have the presentations in physical form again this year. As is tradition, the best posters have been selected and acknowledged in the closing session of the conference.

We warmly congratulate all 17 winners of the WPCEC-8 poster awards.
<![if !vml]>

<![endif]>
Online platform open for 3 months
Too many presentations and not enough time to follow them all? Don't worry, almost the entire content, including scientific Conference Sessions and Parallel Events will be available for streaming for 3 months after the event.

The private chat will stay open so you can get in touch with fellow participants via the platform.

Sit back, take your time and enjoy the comprehensive knowledge the WPCEC-8 has to offer at your own pace.

Access to the Online Platform is included in all regular on-site tickets (on day(s) registered) as well as with the online ticket.

If you were not able to join us in Milan, you still have the chance to get access to all presentations by purchasing the Online Ticket.

Be fast, there is plenty of content to watch!
<![if !vml]>

<![endif]>
EU PVSEC 2023 in Lisbon
We are pleased to announce that the 40th European Photovoltaic Solar Energy Conference and Exhibition will take place in the CCL Lisbon Congress Center in Lisbon, Portugal from 18 – 22 September 2023.

More information can soon be found on the website!
<![if !vml]>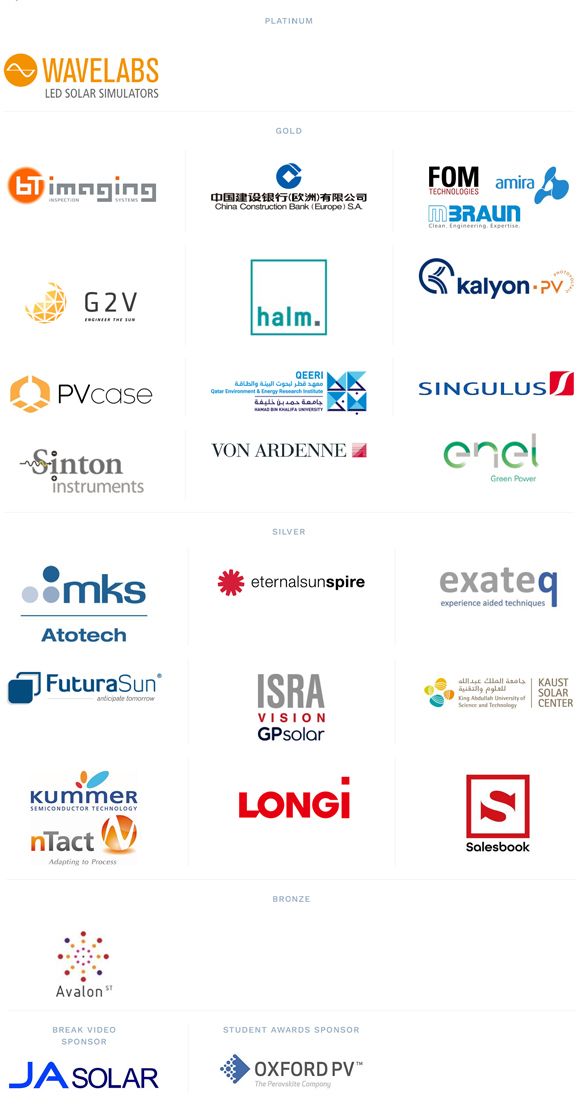 <![endif]>
<![if !vml]>

<![endif]>
Partner News
<![if !vml]><![endif]>

IEA PVPS

For the 27th consecutive year, the International Energy Agency Photovoltaic Power Systems Programme's Trends in Photovoltaic Applications 2022 is now available for download. This report provides the most comprehensive global overview of the development of the PV sector, covering policies, drivers, technologies, statistics and industry analysis.
<![if !vml]>

<![endif]>
For further information please contact:
October 6, 2022
WIP Wirtschaft und Infrastruktur GmbH & Co Planungs-KG · WIP Renewable Energies
Sylvensteinstr. 2, 81369 München, Deutschland · Registergericht München HRA 46696
Haftende Gesellschaft Wirtschaft und Infrastruktur GmbH · Registergericht München HRB 7828

© 2022 WIP Renewable Energies | Disclaimer | GDPR | Unsubscribe from newsletter