Becquerel Prize Winner- Marko Topič
Professor Marko Topič receives the award for his outstanding contributions to the field of Photovoltaics. Those include his academic and experimental work with numerous optical and electrical software as well as measurement systems used by many labs and industries. His enormous engagement towards creating a strong PV community, in Europe and worldwide, as well as his work as chairman of the European Technology and Innovation Platform for Photovoltaics (ETIP-PV) are also recognized. Throughout his career, Prof. Topic has been continuously pushing to stimulate knowledge and people exchanges, supporting the presence of an EU industrial PV-sector, as well as preparing many scientists and engineers now active both in academia and PV industry.

| | |
| --- | --- |
| | Prof. Marko Topič, an electrical engineer by education, has been directing since 2006 the Laboratory of Photovoltaics and Optoelectronics of the University of Ljubljana, where he also chairs the full Department of Electronics. He is also an affiliate professor with Colorado State University. Since 2014 he has been chairman of the European Technology and Innovation Platform for Photovoltaics . He chaired or co-chaired multiple international PV conferences, and operates in several advisory council or board of research institutions. |
The official prize ceremony will take place on the occasion of the 8th World Conference on Photovoltaic Energy Conversion which will take place from 26 – 30 September 2022 in Milan.
On behalf of the Becquerel Prize Committee, we cordially congratulate Professor Marko Topič for this well-deserved recognition.
Christophe Ballif, Chair Becquerel Committee.
www.becquerel-prize.org

The PV wave is more present than ever
As organisers of WCPEC-8, we are overwhelmed by the positive spirit and enthusiasm that our participants are showing towards the event in Milan.

97% of the versatile and extensive conference programme is already fixed, many companies and institutions support WCPEC-8 by promoting or sponsoring the event, and the exhibition area is almost fully booked, all well over a month before the event.
We see the new PV wave is more present than ever and want to thank our participants, partners and the global PV community for their support and commitment to taking the next steps towards an annual and healthy 1TW market together.

If you, too, want to be part of the wave towards a successful global PV deployment, join WCPEC-8 in Milan in September.

Whom to meet
Are you curious about who will be attending WCPEC-8? The global nature of this event is reflected in both the participants and the companies and institutions represented at the event. Get an overview of
whom to meet
!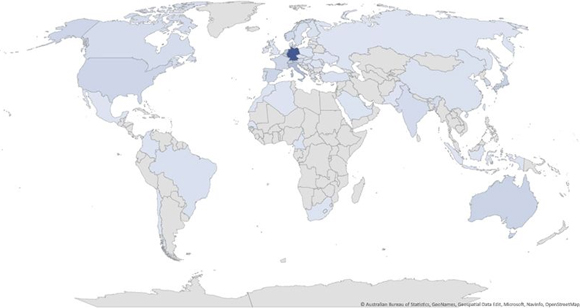 PV Jobs fair
WCPEC-8 wants to help bring qualified PV professionals together with the right companies and jobs.Therefore, there will be an event on this topic on 29 September 2022 in Milan, Italy.
The
Jobs Fair
will consist of an open forum where employers, students and young professionals meet, discuss about potential hiring opportunities, and think about career options. In parallel, there is a
LinkedIn forum
where you can post your job openings online, where job seekers will have access to review the positions and apply.
This event thrives on the active participation of job seekers and job providers. Join us and be a part of it! Fill out the survey and join the WCPEC-8 PV Jobs Fair in Milan.

Refresh your knowledge with the PV Academy
Do you want to refresh your knowledge on specific PV Topics? The PV Academy is a new educational format which summaries and contextualizes the latest developments in PV research. It is the perfect preparation to learn about other disciplines and to sharpen one's know-how before the conference week with its profound topics.

The PV Academy will take place on Sunday, 25 September 2022 in the Leonardo Da Vinci Museum. This place is one of the must-sees in the beautiful city of Milan and you can combine your visit with attending the first ever PV Academy.

Join our speakers for four exciting and educational sessions covering the topics:
Silicon Solar cells: Past and Future
PV and Architecture
Tandem Solar Cells
PV Systems and Storage Solutions
You can join for the full day or only pick your preferred session. Take a look at
the programme
and secure
your ticket
now.

Parallel Events Updates
In additional to the versatile and impressive conference programme, WCPEC-8 offers a great variety of
Parallel Events
covering the most diverse topics in photovoltaic research and technology.
We update the information on all events on a regular basis, so you will find new details and descriptions on the WPCEC-8 website.
Take a look and save your top picks to your personal schedule!

Sponsor an event
During the conference week, far more than a thousand people stream through the halls of the Milano Convention Center at the same time. How do you capture the attention of the participants in the best possible way?
WCPEC-8 offers a wide spectrum of opportunities to present your brand to an international audience. From ready-made packages to individual products and exclusive items.
One way to promote your brand and support the WCPEC-8 is to sponsor one of the many events taking place during the week.
Social events
such as the Conference Dinner, Parallel Events such as the Women in PV event and many more exclusive items are available.
Sounds interesting? Talk to us and
become a sponsor
of a WCPEC-8 event.
Sponsors

Break Video Sponsor

JA Solar
Founded in 2005, JA Solar is a manufacturer of high-performance photovoltaic products. With 12 manufacturing bases and more than 20 branches around the world, the company's business covers silicon wafers, cells, modules and photovoltaic power stations. JA Solar products are available in 135 countries and regions and are used extensively in ground-mounted power plants, commercial & industrial rooftop PV systems and residential rooftop PV systems. With its advantages of continuous technological innovation, sound financial performance, and well-established global sales and service networks, JA Solar has been well received and highly recognized by clients from home and abroad. The company has been listed on Fortune China 500 and Global Top 500 New Energy Enterprises for several consecutive years.


Student Award Sponsor

Oxford PV
Oxford PV is the pioneer and technology leader in the field of perovskite solar cells. The company was established in 2010, as a spin-out from the University of Oxford. Today, we have the largest team globally, exclusively focused on developing and commercialising a perovskite based solar technology. We have a research and development site in Oxford, UK and an industrial pilot line near Berlin, Germany enabling the accelerated transfer of our technology into industrial scale silicon solar cell production. In 2019, we announced plans to move into full commercial manufacturing. Solar panels built with Oxford PV's perovskite solar cell technology will generate more power, critical for delivering more affordable clean energy, accelerating the adoption rate of solar and addressing climate change.


Gold Sponsor




FOM Technologies // Mbraun // Amira S.r.l.
FOM Technologies is a leading supplier of lab- and pilot-scale slot-die coating tools for various R&D applications. Our team includes a high percentage of PhDs in Chemistry, Nanotechnology, and Chemical Engineering to ensure that the needs of our clients sit at the heart of our company. We further partner with the leading companies in the field, such as Amira and Mbraun. While Mbraun excels in tool integration into inert atmospheres for flawless operation and ergonomics, Amira focuses on producing and distributing various state-of-the-art tools to industries such as life sciences, pharma, university, and electronics.


Silver Sponsor




Salesbook
Salesbook is an innovative sales and presentation tool for the mobile sales team, managers and marketing teams. It helps to reach the customer, analyze his needs, present and configure the product.


Bronze Sponsor




Avalon
Avalon ST offers High-Accuracy, Large Area, Long Pulse, A+A+A+ Solar Simulator offering the best performances in the market for measuring the latest high-hysteresis, large size PV panels. With its proprietary LED Drive technology, Avalon has redefined IV measurement capabilities pushing the boundaries and outpacing the long-standing Xenon technology by offering the best spectral match and longest pulse in the market. Avalon offers researchers, laboratories, and production the future-proof equipment they need with its Nexun One and Nexun Zyon product line.


We thank all our Sponsors
Partner News

ODTÜ-GÜNAM

is one of the official partners and supporting organizations of the WCPEC-8 event. Within the scope of this event, ODTÜ-GÜNAM's senior researcher Dr. Emine Hande Ciftpinar will present her study entitled "Towards Totally Screen-Printed IBC Cells with Diffused Junctions", and researcher Hasan Huseyin Canar will present his study entitled "Optimization of Front PECVD SiNx: H Layer Passivating the Emitter of PERC Solar Cells".

Inspired by Singapore and Malaysia's Peranakan culture,

SERIS

, a research institute of the National University of Singapore, invented and developed an innovative PV module that is well suited for integration into facades, with particular attention to heritage buildings. These colourful PV modules enhance the aesthetic appeal of building facades and link the Peranakan tradition with the generation of clean & sustainable energy. Find out more about this innovative solution from SERIS' inventors at the WCPEC-8 Exhibition, booth no. D2, and during the talk of the WCPEC-8 Student Award Finalist Ms. Min Hsian SAW (4CO.8.4).

For further information please contact:
August 18, 2022
WIP Wirtschaft und Infrastruktur GmbH & Co Planungs-KG · WIP Renewable Energies
Sylvensteinstr. 2, 81369 München, Deutschland · Registergericht München HRA 46696
Haftende Gesellschaft Wirtschaft und Infrastruktur GmbH · Registergericht München HRB 7828
© 2022
WIP Renewable Energies
|
Disclaimer
|
GDPR
|
Unsubscribe from newsletter